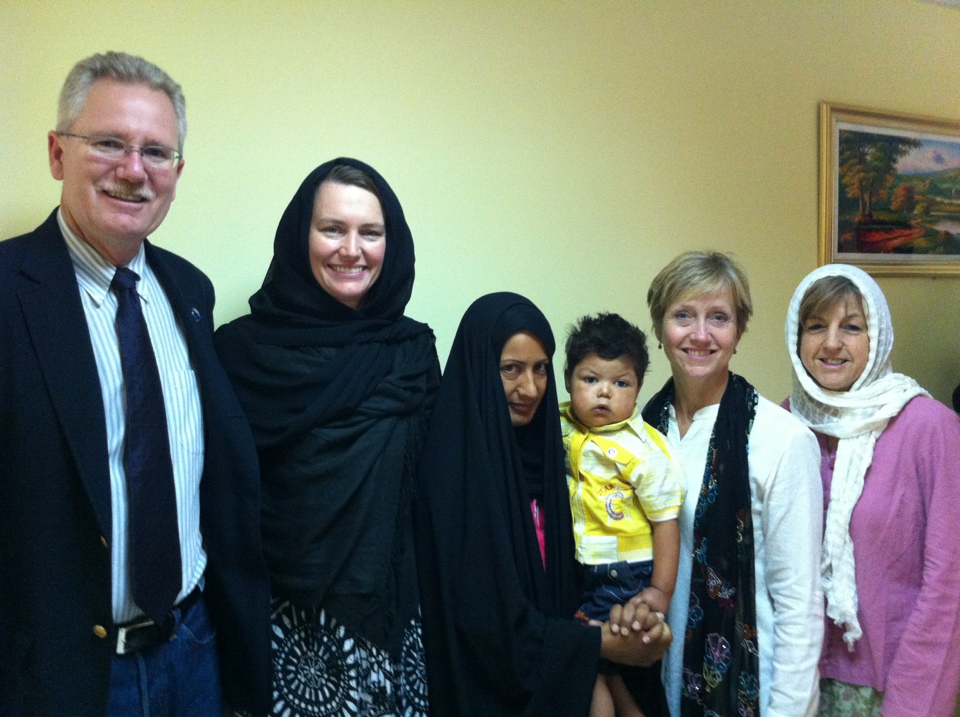 ​
We spent the week in Fallujah, Iraq.  Preemptive Love Coalition and Living Light International built the relationships and laid the groundwork for a team to be invited there and we were the team blessed to be able to answer the call.  Kirk had been here to screen at the end of last year and was hopeful our team could return to help them open their cardiac catheterization laboratory, but it was taking a while to get all the details worked out.  Meanwhile, we planned a trip to Kurdistan, Iraq, to a place we had been before.  Then Kirk told us all that we were also going to Fallujah!  We have laughed this week about our stories in relation to this news.  There wasn't really a moment for each of us to decide whether we were in or out.  We had already committed to the trip.  The trip had just changed…significantly in many of our minds and in the minds of our families.  I actually wrote this email to the team:
No surprise to all you who know and love him that my husband is full of faith and pretty absent of fear.  I wish I were more like him…and maybe the rest of you who have no fears, anxieties, or qualms about our upcoming trip. Things I know and believe:  God is good.  God is sovereign.  God is in control.  If I die, I go to heaven.  There is no safer place than inside the will of God.  Our days were numbered before there was yet one of them and there is nothing we can do to change that.  We are immortal until our work on earth is done.  This trip puts all those beliefs to the test for me.  But, I believe, so I go.  I had a lovely dinner with Minnette this week.  She was telling me she has absolute peace about this trip. That encourages me.  It also encourages me the simple prospect of spending a week with you fun, lovely, easygoing, faith-filled people, no matter where we are in the world and what we are doing!  I am working my way through the John MacArthur study Bible this year (it's fabulous, by the way) and I just finished Chronicles and Ezra and am halfway through Nehemiah.  So like God to give me a timely study!  The amount of courage required by the "good" kings of Judah, Hezekiah and Josiah, to stand against their idol-loving cultures and truly stand on and follow the Word of God to the letter is inspiring, as was the courage required of Ezra and Nehemiah to use the favor they had in Babylon to leave comfortable posts and positions there to make a dangerous trip to Judah and restore the Temple and the Wall of Jerusalem.  
Ezra 7:6:  "This Ezra went up from Babylon, and he was a scribe skilled in the law of Moses, which the Lord God of Israel had given; and the king granted him all he requested because the hand of the Lord his God was upon him."
Ezra 7:10:  "For Ezra had set his heart to study the law of the Lord and to practice it, and to teach His statutes and ordinances in Israel."
Ezra 8:21-23:  "Then I proclaimed a fast there at the river of Ahava [before they left Babylon], that we might humble ourselves before our God to seek from Him a safe journey for us, for our little ones, and our possessions.  For I was ashamed to request from the king troops and horsemen to protect us from the enemy on the way, because we had said to the king, 'The hand of our God is favorably disposed to all those who seek Him, but His power and His anger are against all those who forsake him.'  So we fasted and sought our God concerning the matter, and He listened to our entreaty."
Their stories spoke to me.  We leave comfort, privilege, position.  We need to the Lord to go before, with, above, and behind us!  Kirk knows I hate fasting, but that convicted me too!  The Old Testament is full of repetitions of the following admonition:  "Have I not commanded you?  Be strong and courageous.  Do not tremble or be dismayed, for the Lord your God is with you wherever you go" (Joshua 1:9).
I admonish myself with this fact.  The outcome is the Lord's.  In Daniel 3:17-18 Shadrach, Meshach, and Abed-nego declare "our God whom we serve is able to deliver us from the furnace of blazing fire."  They declared their faith that "He will deliver us out of your hand, O king."  But they accepted "even if He does not," they were willing to die rather than bow in worship to anyone other than their God and Lord.  I will not bow to fear.  Our Lord is able to keep us safe…but even if He does not, I will be obedient to His call.  
I kid you not, as I was typing that last line, this song by Matt Redman (You Never Let Go) came on Pandora:
Even though I walk through the valley of the shadow of death 
Your perfect love is casting out fear 
And even when I'm caught in the middle of the storms of this life 
I won't turn back 
I know You are near
And I will fear no evil
For my God is with me 
And if my God is with me 
Whom then shall I fear? 
Whom then shall I fear?
Chorus: 
Oh no, You never let go 
Through the calm and through the storm 
Oh no, You never let go 
In every high and every low 
Oh no, You never let go 
Lord, You never let go of me 
And I can see a light that is coming for the heart that holds on 
A glorious light beyond all compare 
And there will be an end to these troubles 
But until that day comes 
We'll live to know You here on the earth 
Chorus: 
Yes, I can see a light that is coming for the heart that holds on 
And there will be an end to these troubles 
But until that day comes 
Still I will praise You, still I will praise You
​God is good!  See you soon!
​So, I would be absolutely lying if I said I was not nervous to come on this trip.  Everyone who reads these updates knows that I spend the week really seeking the Lord for what He is trying to teach me.  And often what I think the lesson is is very different from what I thought it was going to be.  By the time I arrived, I was actually excited for the honor and opportunity to step out in faith.  In my mind, this had never been required of me to this level, where I truly thought my personal security and safely could truly be at risk.  Here comes the part where I absolutely praise our hosts:  they have gone out of their way to protect us with constant armed guards, armored vehicles, etc.  I have never felt unsafe.  I realize that all of man's defenses are ultimately penetrable but they did everything in man's power to keep us safe.  They have been gracious, welcoming, generous, and concerned for our every need and comfort.  I could relax.  And, strange as it might seem, this confused me.  I was actually looking forward to a week of utter reliance on the Lord.  I realized how quickly I can revert to reliance on man.  The same is true in our care for the children.  We've done this a lot.  We've gotten good at making the best of maybe less than ideal circumstances.  Once again, I can begin to rely on my skills or supplies rather than on the Lord.  So if I wasn't exercising utter reliance on the Lord for safety or for patient outcomes, was I at least being a good witness for the Lord in whom I believe ("they will know we are Christians by our love").  Ah, such a familiar theme in these updates.  We can laugh as a team because we've been doing this together so long that we know each other's idiosyncrasies, weaknesses, and hot buttons.  I'm sure mine are quite evident to my teammates.  After we finished our five days of twelve caths and all the children did well, we were treated to a trip to the province Governon's late in the evening.  What an amazing caravan we were part of, absolutely hard to describe.  On the way home, I was reflecting on all these things.  I was disappointed in myself for not relying on the Lord like I wanted, for not praying without ceasing like I thought I should, and for failing to let His light shine through me.  Then one of my favorite verses came to mind:
But we have this treasure in earthen vessels, so that the surpassing greatness of the power will be of God and not from ourselves (2 Corinthians 4:7).
It brought tears to my eyes.  It's not about me.  I am so earthen and I so fail.  But the power is God's, not mine.  Thank God!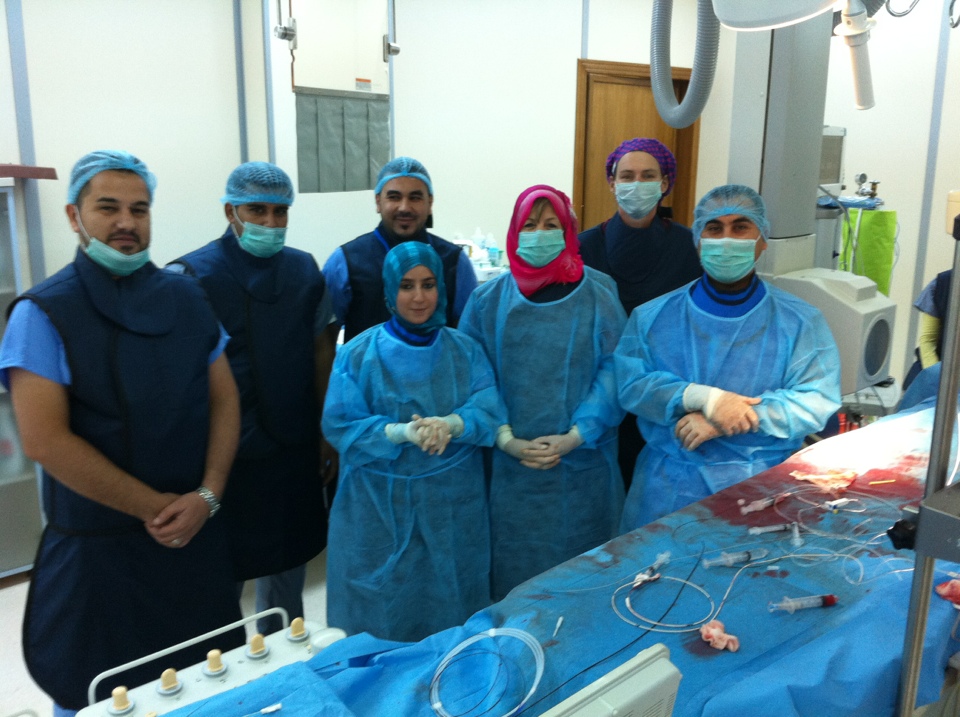 Early in the week, a doctor from here told us that "no one comes here, not even Iraqis…but you came!"  After our clinical work was over, we went to Tikrit (in another one of those amazing caravans) to visit their cath lab.  One of the pediatric cardiologists from there had worked with us in Fallujah during the week and was excited to host us.  We were the first foreign team that had visited there.  They were grateful…and asked us not to forget them.  Sometimes the simple act of showing up simply ministers:  "Like cold water to a weary soul, so is good news from a distant land" (Proverbs 25:25).  Once again I am astounded by the freedoms I enjoy.  No one chooses the country they are born in.  I have a choice.  I have been given the gift of privilege and position.  I can choose to be courageous and go and visit and hopefully help, serve, minister, and encourage those who find themselves in completely different circumstances, not of their choosing.  And the amazing part of God's economy is that when I obey Him, I always receive so much more than I ever gave.  "Give and it will be given to you.  They will pour into your lap a good measure, pressed down, shaken together, and running over." (Luke 6:38).  My cup runneth over…